Welcome to my F1 Diecast Model Collection
Welcome to my Diecast Model Collection, I trust you find it as interesting as I do. There are now over 300 models in my F1 Collection and they are all on this website. I have been a fan of Formula 1 since the mid 70's, when a John Player Special was a racing car and not just a cigarette brand. In addition, Martini Brabham's were screaming around the streets of Monte-Carlo and the "Anytime, Any Place, Any Where" TV Ad's were common place.
As a result this ignited my early interest in design and branding along with building my Diecast Model Collection.
The Collection
Being a Designer and Photographer, I recently set to and photographed all of my Diecast Model Collection and this Catalogue Website is the result. You can use the links on the right-hand side or menu across the top to see the cars. You can search by: Driver, Teams, Years, Brands and World Champions. There are still several additions to be made which will be added over time.
Hope you enjoy looking at my Diecast Model Collection, feel free to make any Comments and add a Review to the Individual Cars.
My all-time favourite is the Spark Ligier JS5 – the most expensive car I ever purchased.
1/12th scale Tamiya
My very first F1 model car was this one. The 1/12th scale Tamiya John Player Special Lotus 72D as driven by Emerson Fittipaldi. World Champion in 1972. Over the years I had numerous others. Christmas & Birthdays were always exciting times.
Onyx Models were the 1st range of cars I purchased back in the late 80's early 90's. The Alain Prost McLaren MP4/04, now looking a bit tired, was my initial purchase.
Minichamps
The Olivier Panis Ligier JS43, Monaco 1996 Grand Prix Winner was the first Minichamps car for my Diecast Model Collection.
Up until the launch of the Formula 1 Car Collection in 2016, all of my old cars had been packed away. Looking at the list of proposed cars i the Formula 1 Car Collection, my interest was re-ignited and I started to look and see what else was available. In addition to the well-known Minichamps models, I had never heard of Spark Models before and in no time at all my collection was growing rapidly.
Over the next few months I will be adding a number of my favourite F1 Team pages. The 1st is Equipe Ligier Gitanes, featuring Jacques Laffite, Patrick Depailler and Didier Pironi.
Other team are likely to be Marlboro McLaren and JPS Lotus. Click here to see more.
Minichamps Models

(see all here)
Spark Models

(see all here)
F1 Car Collection Models

(see all here)



  Top 5 F1 Most Viewed Cars on this Website
No:1
Jack Brabham – Brabham BT19
Winning his 3rd World Championship in 1966, Jack Brabham became the first and to this day, only driver to win the F1 World Championship in a car baring his own name. But for some reliability issues he would have also won in 1967, the Championship going to team mate Denis Hulme.
It's very interesting looking at the listing of most viewed cars. The Brabham BT19 especially one with the driver figure is a very sought after model, Spark making a version, which may be re-released at some time. Here is the link to the complete Top 30
Top 10 Number of Models for each Team

Ferrari – 59 Models

Williams – 37 Models

McLaren – 35 Models

Ligier – 25 Models

Lotus – 24 Models

Brabham – 20 Models

Tyrrell – 15 Models

Mercedes – 14 Models

Red Bull – 11 Models

Jordan – 10 Models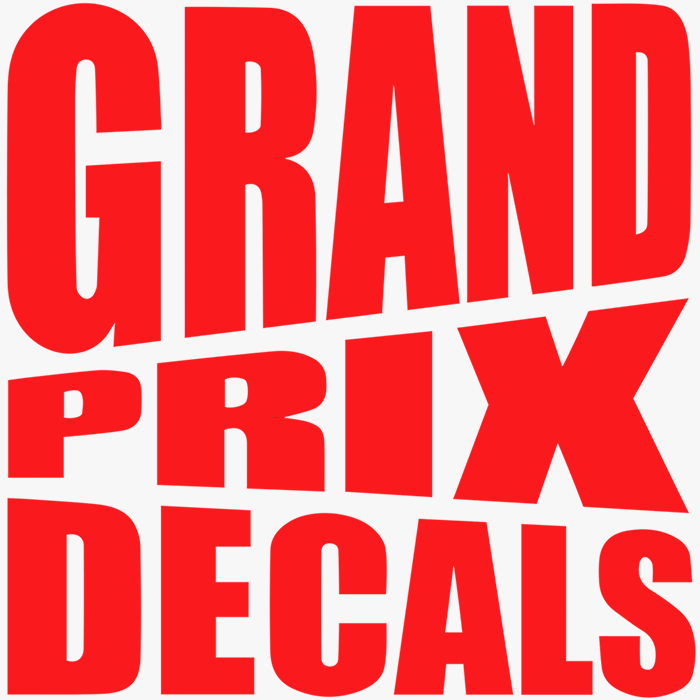 Tobacco Decals
The regulations concerning Tobacco Advertising prevent a lot of model cars from displaying the original liveries. Some of the Early Onyx and Minichamps cars have the correct decals but these days there are just gaps were the branding appeared. With most Spark models, a separate sheet of decals is supplied with the model where appropriate.
Specialising in missing decals and driver conversions for F1CC models. Grand Prix Decals have made a set for the majority of the cars. For further details you can find them at www.facebook.com/GrandPrixDecals/  The eBay Shop is:  www.ebay.co.uk/str/grandprixdecals

Click on the images below to see the before and after of each car
  F1 World Champion Gallery

  This weeks Featured Cars: Fernando Alonso
  The Best places to buy from: in my opinion!

Top 10 F1 World Champions



Michael Schumacher – 7 time F1 World Champion

Lewis Hamilton – 7 time F1 World Champion

Juan Manuel Fangio – 5 time F1 World Champion

Alain Prost – 4 time F1 World Champion

Sebastian Vettel – 4 time F1 World Champion

Jack Brabham – 3 time F1 World Champion

Jackie Stewart – 3 time F1 World Champion

Niki Lauda – 3 time F1 World Champion

Nelson Piquet – 3 time F1 World Champion

Ayrton Senna – 3 time F1 World Champion
Top 10 Drivers Never F1 World Champions
Max Verstappen – 19 Wins

Stirling Moss – 16 Wins

David Coulthard – 13 Wins

Carlos Reutemann- 12 Wins

Rubens Barrichello – 11 Wins

Felipe Massa – 11 Wins

Ronnie Peterson – 10 Wins

Gerhard Berger – 10 Wins

Valtteri Bottas – 10 Wins

Mark Webber – 9 Wins

Jacky Ickx – 8 Wins

Daniel Ricciardio – 8 Wins
F1 Auto Collection – Italy No: 101 – No: 120

View All of my Diecast Catalogue
The Collection, built up over a number of years includes cars manufactured my Minichamps, Spark, Formula 1 Car Collection, Altaya, and other brands.